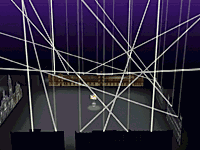 Mexican-Canadian artist Rafael Lozano-Hemmer coined the term "relational architecture" to refer to large-scale interactive events that transform emblematic buildings through new technological interfaces.

His previous pieces, done in collaboration with Canadian engineer-composer Will Bauer, have involved the deployment of data-networks, monumental projection, robotic lights, custom-made sensors, samplers and other devices to create collective participatory experiences in public space.

In 1998 the National Council for Culture and the Arts, commissioned Lozano-Hemmer to develop a relational architecture piece for the Fin de Millennium celebrations in Mexico City's Zocalo Plaza.
---
Concept notes
In his book "Sombras de Obras" (Shadows of Art Works) Octavio Paz asked "What language could express Mexico? New or unknown realities likewise need languages that are new, not known. The language with which to talk of the new Mexico, milenarian and newborn, cannot be that of the academic tradition but rather the new language of the arts."
Paz's quote is almost a warning: on a symbolic date like the arrival of the year 2000 there is great temptation to develop projects that promise to select, digest and represent the most significant references in the construction of mexican identity. However, such seemingly "exhaustive" initiatives limit the plural reality of Mexico's heterogeneous and mestizo culture because they inevitably signal what is missing rather than what has been chosen to be displayed.
For these reasons, Vectorial Elevation is a piece that tries to stay away from didactic, historicist or monologic forms. Instead it offers an interface for people to have a direct impact on the urban landscape through a vehicle that is non-representational and non-linear. People from all over the country and the World will take part in a telepresence event that emphasizes action, interdependence and feedback. While Mexico's two million net users may find it easy to access the site, a large number of free public access terminals have been deployed around the country so that more people may have access to the piece readily (and to the internet in general!).
Mexican technological culture
By no means should technology be seen as a replacement or improvement over other established disciplines in the fine arts. Technology is an inevitable component of our contemporary society and artists undertake to use, criticize and invent the new media. In Mexico, there is a largely undocumented history of technological culture which serves as a legitimate backdrop for electronic art projects, for example:
The postulation of the theory of Cybernetics by Norbert Weiner and Arturo Rosenbleuth at the Mexican National Institute of Cardiology, published in 1947.
The invention of colour TV by Guillermo González Camarena in 1940.
The popularization of electronic music by Juan García Esquivel in the late 50s.
The prototyping of the first virtual immersion devices, the Sensorama by Morton Heilig in the 1960s.
The coding of Gnome, one of the most admired and adopted open source software projects, started by Miguel de Icaza in 1997.
The articulation of the concept of non-linear history by Mexican thinker Manuel de Landa.
Precedents
Vectorial elevation is the fourth piece in the relational architecture series. Its main objective is to allow public control of the spectacular lighting possible with searchlights, which normally follow a preprogrammed sequence of movements. There is a large number of precedents for this type of work, many of them discussed in the Vectorial Elevation book. Here are a few recent artworks to which the project can be directly associated:
Toyo Ito's interactive architecture, such as his 1986 Tower of Winds in Yokohama, which transforms on environmental changes such as noises and the speed and direction of the wind.
Ornitorrinco the telerobot by Eduardo Kac and Ed Bennett (1989), which was a first contact with the prolific field of artistic teleoperation.
Louis Phillippe Demers and Bill Vorn's 1993 installation Espace Vectoriel, where the presence of the public triggered motion patterns and sounds from robotic light assemblies.
Christian Möller and Joachim Sauter's 1994 Networked Skin project for the Ars Electronica Center, designed to transform the building with a global interface.
Rafael Lozano-Hemmer and Will Bauer's 1995 installation The Trace, where two remote participants shared the same telematic space constructed with intersecting light beams.
Knowbotic Research 1996-97 Anonymus Muttering, featuring real time intersection of net data with sound and light transformation.
Ken Goldberg's telepresence pieces, such as his Dislocation of Intimacy which allows participants on the web to turn lights on and off and watch the shadows produced by an offscreen installation.
Masaki Fujihata's, Light on the Net Project, a piece that allows turning individual lightbulbs on a display in Tokyo.
Hans Muller and Zwarts / Jansma Architecten 1998 installation in the Leidschenveen Tunnel, which allows people to send messages over the net, which are then presented in an electronic display in public space.
Stadtwerkstatt's Clickspace 98, a three module project that allowed light, sounds and messages to be displayed in various buildings in Linz, Austria.
More information regarding other projects by Lozano-Hemmer can be found in his web site www.lozano-hemmer.com.