Concept


"Vectorial Elevation" was an interactive artwork that allowed you to direct powerful light beams and transform Vancouver's skyline between February 4 - 28, 2010.

This website included a virtual model of Vancouver where you were able to design "light sculptures" with 20 robotic searchlights located along English Bay.
Once you were happy with your design you could submit it together with your name, location and dedication or comments. Every night from dusk to dawn new designs were quietly rendered sequentially as they were added to a queue. The project automatically created a personal webpage for each participant, documenting his or her contribution with views from 4 project webcams. With a 15 Km visibility radius, the installation intended to blend the virtual space of the Internet with one of the most emblematic public spaces in Vancouver.
This large-scale public art installation was commissioned by the City of Vancouver's Olympic and Paralympic Public Art Program and Vancouver 2010 Cultural Olympiad, presented by Bell, with support from the Province of Quebec. The installation —considered one of the world's largest interactive artworks— was by Mexican-Canadian artist Rafael Lozano-Hemmer and was part of CODE, the Cultural Olympiad's Digital Edition.
"Vectorial Elevation" was originally developed for the Millennium Celebrations in Mexico City's Zócalo Square, where over 800,000 people from 89 countries participated in its two-week exhibition. The installation was subsequently presented for the Fête des Lumières in Lyon in 2003 (600,000 participants) and for the EU expansion celebrations in Dublin in 2004 (500,000 participants). The piece in Vancouver is the largest and brightest to date, with 20 10kW searchlights covering English Bay with a 100,000 m2 canopy of light, For comparison, Mexico City used 18 7kw lights and covered 70,000 m2. Despite the monumental size of the installation and its wide visibility, the project is not intended as a cathartic pre-programmed spectacle like a fireworks display or a son-et-lumière show. On the contrary, the piece is designed to attract constant, personal participation that creates a sense of connection, complicity and entitlement.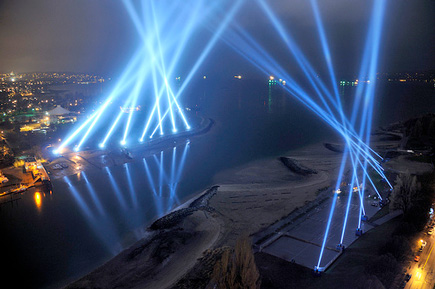 Project Details
Year of creation
— 1999
Technique
— Xenon 10kW robotic searchlights, four webcams, Linux servers, GPS, Google Earth 3D DMX interface, custom-software.
Dimensions —
Interactive area 1,000 x 1,000 metres, visibility 15 Km radius depending on atmospheric conditions.
Participant Feed:
Rafael Lozano-Hemmer, Montreal Canada